Courses Taught:
Mathematics 6/7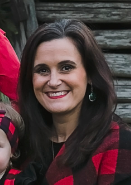 My name is Rachel Mudrich and I've been an educational instructor for 13 years. Throughout my career I've taught all levels of education, from elementary school to collegiate level. I attended school here in Mobile, AL, graduating high school from Faith Academy in 2003. I received my Bachelor of Science degree in Early Childhood/Elementary Education from the University of Mobile. I went on to receive my Masters of Science and Doctorate of Philosophy from the University of South Alabama, finishing in 2017.
My teaching experience in the past has been at J.E. Turner Elementary School, Semmes Middle School, and ACCEL Day and Evening Academy. I am a published writer as an educator, and I'm always growing as a learner, looking for new, innovative ways to try and help others learn and achieve their goals!
I am happily married to my husband Jonathan for 10 years now. We live on a cattle farm with our three children: Stetson, Shiloh, and Mazie Rae. We have multiple cows, dogs, a donkey, amongst our farm life.
Some fun facts about me are as follows: I love Harry Potter and mythology. Rick Riordan is my second favorite writer, as he covers all historical mythology (Greek, Roman, Norse, Egyptian, etc.) throughout his writings. I have a life goal of visiting all 50 states before I die. So far, I've visited 40 out of the 50 states. My favorite would have to be Montana so far - the Rocky Mountains are just breathtaking! My football team is, of course, Alabama - ROLL TIDE!!
I truly love what I do, educating and spending time with young people to help them become successful in life. Looking forward to many more years as a leader!